When you're studying to take the LEED Green Associate or LEED AP exams, solid preparation is essential. I've done a lot of research on the study guides that are on the market. Some are definitely better than others! Below you will find some of my favorites. I will work to continually add other Study Guides that I think will help you succeed.
_______________________________________________________________________

Green Exam Prep
In order to prepare for the LEED Green Associate or LEED AP exams, it is ESSENTIAL that you take practice exams. Taking practice exams will show you the type of questions that are contained on the actual exams. I used the Green Building Education Services Green Exam Prep Practice Tests to prepare for taking the LEED exams. I can tell you that these are the BEST sample questions you can find. They are so close to the actual exam questions and as you're taking the practice tests you have the option to learn why your answer was correct or incorrect.
If you can only purchase one study resource, the Green Exam Sample Practice Tests should be the one you buy.
________________________________________________________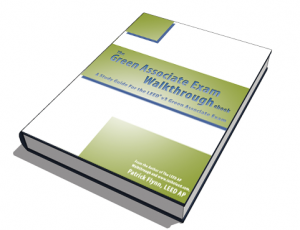 Green Associate Walkthrough Study Guide
Planning on taking the LEED Green Associate Exam? Do you know what material you need to know to pass the LEED Green Associate exam?
The LEED Green Associate Walkthrough Study Guide introduces you to LEED and what it means to earn your LEED Green Associate credential. This study guide gives you an overview of what you will be tested on, details on what you'll need to memorize to pass the exam, as well as helpful exercises and charts that will help you organize the information you need to memorize.
___________________________________________________________